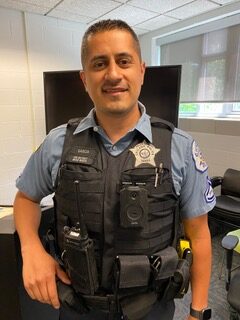 Officer Jorge Garcia, Chicago Police District 18
Officer Jorge Garcia proudly wears his insignia on his sleeve: "FTO"- Field Training Officer. It is his job to train the new recruits from the Police Academy. Two to three lucky officers in training spend months in the field learning from Officer Garcia, who is a competent and highly experienced officer. He has studied the law, so he is able to provide the basis of legal knowledge that all members of the criminal justice system need to know to do their job effectively. While he trains them in policy and teaching them the procedures, he provides them with a foundation of the deeper commitment that being a police officer brings to the communities they serve.
Officer Garcia's strength is his attention to the people he encounters. He has a respect for human dignity and is very cognizant of the potential mental health issues that are so prevalent in today's society. By recognizing an individual's needs he is able to keep dangerous situations from becoming more tense. He was nominated by the National Alliance on Mental Illness (NAMI) for an award related to his sensitive treatment of a youth in distress. When Office Garcia realized that the way to reach this youth emotionally was to bring him a "happy meal" –he made it happen and a potentially disastrous situation was averted. These small and seemingly insignificant acts go unnoticed at large, but is the reason that Officer Garcia is such a role model for his community and to his fellow officers.
Officer Garcia joined the police force over fifteen years ago as a young man in his early twenties. He always knew he wanted to be in law enforcement, as he saw his cousins engaged in a noble profession as police officers.
We asked Officer Garcia to share a story from his career that he felt most proud of. It was a day when he was assigned to protect a crime scene. The officers already on the scene had completed their work and had no leads as to who the suspects might be. No one in the community was willing to come forward and share what they might have seen. Officer Garcia astutely surveyed the scene and discovered a few homeless persons on the periphery. He went up to them, engaged them in conversation and before long they disclosed to him all that they had witnessed…and they were eventually able to solve the crime.
Law enforcement runs in the family—his wife is a Master Sergeant with the Illinois State police, where she maintains media relations for the State police. When he is not attending to his job, he loves to spend time with his two children and his wife. He also loves to work out to stay fit for the rigors of his job. Thanks, Officer Garcia for all you do for the City of Chicago.
Officer Theresa Kelly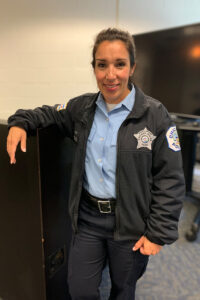 Officer Theresa Kelly is a licensed Clinical Professional Counselor and an active Chicago Police Officer assigned as the 18th. District Mental Health Resource and Domestic Violence Liaison Officer. She takes an active role as a member of the Chicago Police Department's Crisis Intervention Team, teaching and assisting officers at the district level on how to properly handle calls involving individuals in crisis. She is responsible for designing and implementing mental health and public safety programs within the community that aid in bridging gaps and building relationships with the police. With 20 years' experience working in various capacities within the field of mental health, her experience includes working in residential treatment facilities for juveniles in post-detention to teaching college-level psychology courses.
Officer Kelly received her master's degree in clinical psychology from the Illinois School of Professional Psychology. Her clinical focus is anxiety, trauma, and stress related disorders. She utilizes an integrative approach, with a concentration on Cognitive Behavioral Therapy and Mindfulness-Based Cognitive Therapy. She is also a certified clinical anxiety treatment professional and certified clinical trauma professional and also works with both individuals and couples in private practice. The daughter of a police officer, Officer Kelly, a mother of four, comes from a long line of first responders. She is most proud of her ability to utilize her education and experience to help in her job. In her spare time, she enjoys being with her family and friends.
Passionate about officer wellness and fitness, Officer Kelly has created an Officer Wellness Week during which fitness and nutritional experts come to the District to educate officers on healthy lifestyles. Last year she hosted a Biggest Loser Challenge in which many of the District's officers lost weight (up to 18 pounds) and learned about healthy eating choices.
When we asked her what we, as SOAR members and residents, can to do help and support the 18th District she had the following suggestions:
Attend a CAPS meeting
These meetings are set up specifically for the community and are your connection to the Chicago Police Department. This is where residents can alert the police about what you see happening in your neighborhood.
Police District 18 CAPS (Chicago Alternative Policing Policy) Beat Meetings CAPS meetings are typically held in person however due to the pandemic these are held virtually. The next meeting is scheduled for Thursday, September 3. We will post the details and Zoom link in the newsletter. You also can follow District 18 CAPS reports on Twitter.
Join the Court Advocacy programs
By attending court hearings for individuals arrested while committing crimes, Court Advocates are recognized for their service, attendance and help show that the community cares about prosecution of offenses committed in our neighborhoods. The Court Advocacy Program is run through the Chicago Police and Cook County State's Attorney's Office. Training is provided. Email here for information and to apply or call 312.742.5778.
Say Thank You
When you see an officer on the street, he or she will appreciate a 'hello' and 'thank you.' A great way to pass on your support and encouragement is to go the extra mile to email or write a letter commending a specific officer. These messages are passed onto the entire Police Department. You can 'compliment an officer' at this link.