Member Offers & Business Updates
Listed below are exclusive SOAR member offers from some of our Business members. Please read carefully and note expiration dates. If you have questions please contact the business directly. Enjoy!
Lizzie McNeill's Irish Pub
​​​​Ongoing​​​​​​​
Lizzie McNeill's Irish Pub is offering a SOAR member exclusive discount. Known as "your favorite neighborhood Irish bar", Lizzie McNeill's boasts beautiful views of the Chicago River, large spacious patio, extensive list of Irish whiskey and tasty food. With this offer SOAR members receive 10% off their purchase at Lizzie McNeill's. Offer valid when you show your server your SOAR membership card.​​​​​​​
*If you are a SOAR member and need a new membership card printed please contact the SOAR office at [email protected] or call the office at (312) 280-2596.
The Lunchroom
Location: 200 E Chestnut St.
Phone: (312) 751-1519
20% off
of an order of $20 or more which can be used either by mentioning the offer in The Lunchroom/Lunchbox or ordering online
www.space519thelunchroom.com
code: NEIGHBOR20
.
The entire menu from
The Lunchroom
, which focuses on California-inspired items, is available to order for take away or dining al fresco on the restaurant's 24-seat, dog-friendly, European-style patio on Chestnut Street.
Hours: Monday-Friday 11AM-4PM, Saturday 9AM-4PM, Sunday 10AM-3PM
The Lunchroom's little brother 
The Lunchbox
, features a new grab and go menu with a daily assortment of sandwiches, baked goods, quiches and tarts, featured daily entrées, a coffee bar, cold drinks, and curated wine bottles.
Hours: Monday-Saturday 8AM-6PM, Sunday 10AM-5PM
The Shops at North Bridge: Rent the Runway Sale
Through June 10
The Shops at North Bridge is offering SOAR members a 15% discount shopping this sale! The Rent the Runway sample sale is on. Get ready to shop hundreds of pre-loved designer labels at up to 90% off retail.
To learn more about the event click here. To redeem the 15% discount, mention being invited to use the "local discount" at checkout!
Lookingglass Theatre:
"Lucy and Charlie's Honeymoon"
Beginning May 24
Lookingglass Theatre Company announces that tickets are now on sale for the World Premiere of Lucy and Charlie's Honeymoon, with performances beginning on May 24, 2023, at Lookingglass Theatre located in the Water Tower Water Works building, 821 N Michigan Ave. "Lucy and Charlie's Honeymoon is a wholly unique take on the American dream through the lens of the Asian American experience," says Yee. "It is a musical comedy/ crime thriller featuring a brilliant AAPI cast playing country-western, folk, and Americana inspired music.
To purchase tickets visit this link.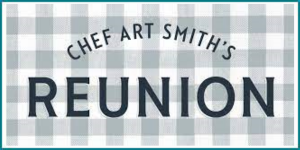 Chef Art Smith's Reunion: Reunion Membership
Ongoing
Chef Art Smith's Reunion has an exclusive FREE membership for all residents living in 60611 & 60610.
Sign-up today to receive perks such as:
15% off your purchase – every visit
Preferred Reservations
Invitations to Special Events such as dinner at Chef Art Smith's house
Birthday surprises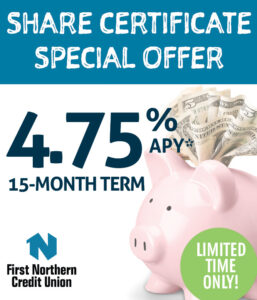 First Northern Credit Union: Share Certificate Special
Available Now
Earn 4.75% APY* for 15 months with our limited-time Share Certificate special offer. Don't wait—this offer won't last long! Open online at www.fncu.org/CDoffer today or at our 541 N. Fairbanks branch location in Streeterville.
For complete details visit www.fncu.org/CDoffer.
Navy Pier
State of Sound
April 27-August 27​​​​​​​​​​​​​​
Navy Pier will welcome State of Sound: A World of Music from Illinois – a one-of-a-kind exhibit showcasing the achievements and contributions of The Land of Lincoln's music greats – April 27 through Aug. 27. From Muddy Waters to REO Speedwagon, Cheap Trick to Earth Wind and Fire, and Chance the Rapper, State of Sound celebrates the musicians, legendary radio stations, and homegrown musical gear that have shaped the sonic history of Illinois and the world.
The free exhibit will be housed on the first floor of Navy Pier's Festival Hall and open to guests during all Pier operating hours.
Live on the Lake
May 27-September 4
Enjoy Live on the Lake – a FREE live music summer concert series in the Navy Pier Beer Garden from May 27 and runs through September 4. Bring your friends, enjoy the music, and take in the lakeside summer views.
Dates/Times May 27- September 4
Saturdays- 2 p.m. to 11 p.m.
Sundays- 2 p.m. to 8 p.m.
Monday- Memorial Day and Labor Day
Location: Navy Pier Beer Garden
Click here to learn more.
Join TEAM SOAR for the Cancer Survivors' Celebration Walk & 5K Sunday, June 4.
Please join Team SOAR for the Cancer Survivors' Celebration Walk & 5K on Sunday June 4. This event features a non-competitive walk or chip-timed 5K run along Chicago's lakefront, and a lot of other fun activities.
Date/Time
Sunday, June 4th
Event Day Registration 8:00 am
​​​​​For further details and to join Team SOAR visit this link.
Sonesta ES Suites: SOAR Member Exclusive
Through December 31, 2023​​​​​​​
Sonesta ES Suites is offering a SOAR member and friends an exclusive discount. Each suite features a fully equipped kitchen, roomy work area, and bigger, cozier beds. Wi-Fi and daily hot buffet breakfast are complementary. With laundry and a gym onsite, guests have everything needed for their stay. With this offer SOAR members receive 10% off the Best Available Rate.
Offer valid when you book through the link below or book on website using the promo code STRE. Click here for SOAR direct booking link.
First Northern Credit Union
New Member Offer for SOAR: Up to $900!
Expires 12/31/2023
SOAR members can earn up to $900 when opening a new checking account, home equity loan, or mortgage*! Use promo code SOAR2023 when applying to take advantage of these special offers, just for SOAR members. *For complete details or to open online visit fncu.org/SOAR.
PUPS Pet Club
Location: 468 N New St.
Phone: (312) 971-7080
Pups Pet Club: Complimentary 30-Minute  ​​​​​​​Pupstart Training Session
Pups Pet Club is offering a complimentary 30-minute training session to all Chicago pet parents. The session includes a goal-oriented lesson with one of their highly skilled dog trainers. You'll get results right away. 
To book your free session you can call (312) 971-7080 or reach out by email to 

[email protected]