Look What's Cookin' at the SOAR Farmers Market!
Throughout the SOAR Farmers Market season, we showcase chef demonstrations from notable Streeterville restaurants. At each demonstration, chefs set up their kitchen inside the SOAR Information Booth and demonstrate how they make one of their special dishes. Once the dish is ready, samples are given out for all to enjoy!
After each demonstration we post the recipes of what was made at the demonstration for you to try at home. Remember to buy your fresh ingredients at the SOAR Farmers Market!
Heirloom Tomato Tartine from Chef Martial Noguier
Thanks to Chef Martial Noguier from Bistronomic for returning for another Chef Demo during the 2018 season! This year, Chef Noguier prepared a colorful, fresh heirloom tomato tartine using raspberries from Nichols Farm and Orchard and tomatoes from Lane's End Farm!
Vegan Eggplant Burger with Avocado from Chef Baasim Zafar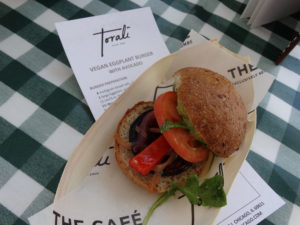 Chef Baasim Zafar and his team put together a delicious vegan dish – Eggplant Burger with Avocado! Thanks to Chef Zafar and Torali at the Ritz Carlton for coming to our market for the demo! Click here to see the recipe!
Green and White Salad from Chef Doug Wroble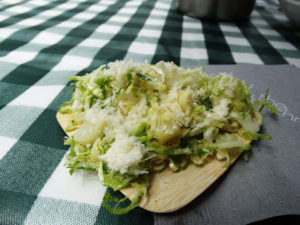 Thanks to Chef Doug Wroble from The Lunchroom at SPACE 519 for putting together a delicious Green and White Salad for 250+ Farmers Market visitors!
Upcoming Chef Demos
A look back at the 2017 Chef Demonstrations